When we talk about CBD, the presence of terpenes accompanying Cannabidiol is regularly cited. These natural active ingredients are present in many plants, including hemp, and contribute to the effects that can be felt while using CBD products.
Terpenes
Present in a huge quantity of plants, terpenes are aromatic compounds that are responsible for the tastes, smells and aromas of certain plants. Terpenes allow plants to defend themselves, protect themselves, reproduce, but also help to increase their maturation or metabolism. They are therefore very important in the life of fauna and flora, and have also been recognized for their benefits for thousands of years.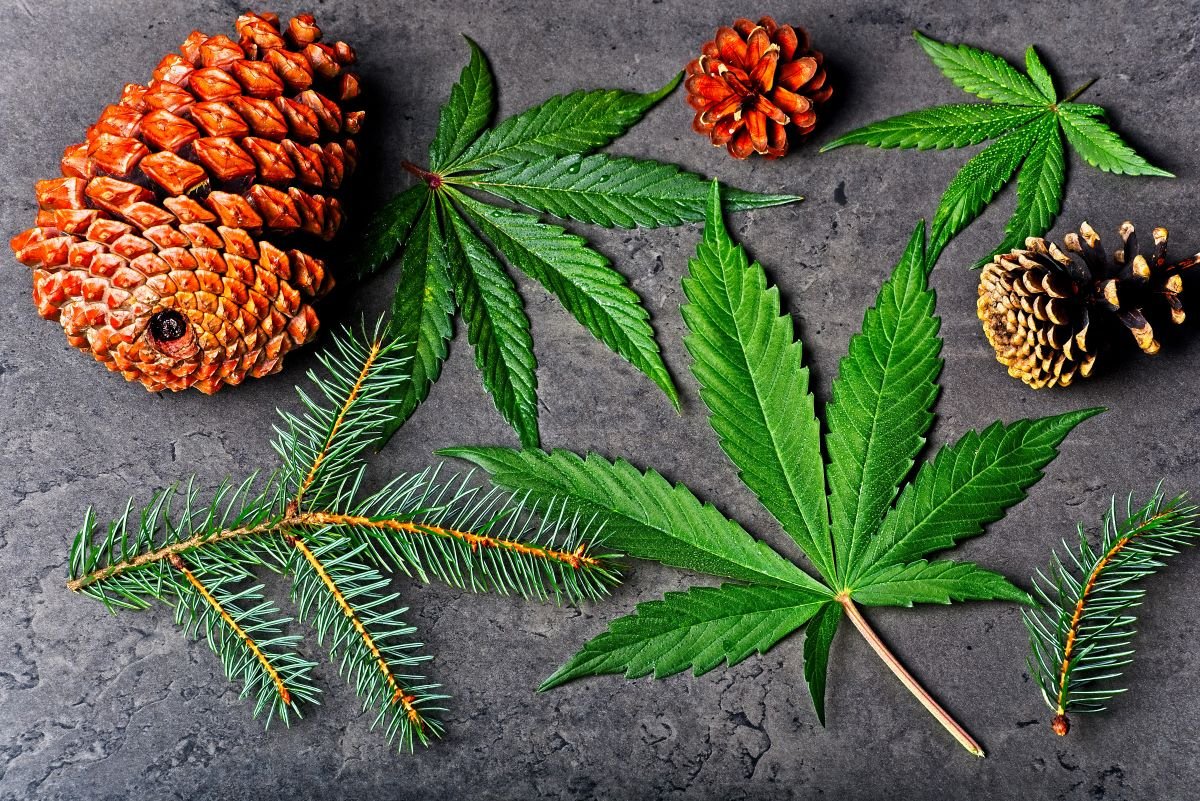 Indeed, these natural volatile organic compounds, also known as isoprenes, are the bases of natural essential oils, such as lavender or lemon essential oil, which are used by many civilizations around the world: pain, inflammation, migraines, allergies, each essential oil has a particular use.
Naturally, hemp is one of the plants that contains one of the largest number of terpenes: myrcene, limonene, we can find nearly 100 different terpenes, from the most common and best known to others less studied but equally effective. While using a product containing a hemp extract rich in CBD, one also benefits from the action of terpenes, which supports the effectiveness of CBD but also offers its share of specific benefits depending on their quantity.
What are the benefits of terpenes?
Terpenes are recognized by science for their numerous benefits. This table summarizes the beneficial action of the most prominent and common terpenes:
What are the terpenes present with CBD used for?
CBD products can be composed of two CBD extracts: full spectrum (Natureight products), or isolated in crystal form.
CBD in crystal form
Following a petro-chemical process, it is possible to extract CBD from the hemp plant in its isolated form, i.e. 99.8% pure: CBD crystal. However, this type of CBD is much less effective than in its natural form: it does not contain any other cannabinoids, terpenes or flavonoids that could contribute to the expression of CBD in your body. In addition, the chemical process needed to create it is unnatural.
The CBD in its complete form ( full spectrum )
In our NATUREIGHT laboratories, to produce CBD, we use a hemp extract rich in Cannabidiol named "full spectrum": it contains all the active ingredients that can be found in hemp and which are necessary for the good manifestation of CBD: cannabinoids (CBC, CBG, CBN, etc…), terpenes (myrcene, limonene, etc…) and flavonoids (chalcones, aurones, which give their colours to the plants). Moreover, thanks to our unique extraction process, we do not exceed 72°C, unlike other producers who use a higher heat extraction, destroying certain compounds.
Terpenes are therefore only present in hemp extract rich in so-called full spectrum CBD. They participate in the potential of CBD by reinforcing its action.
What terpenes are found in hemp and CBD Natureight products?
Beta-Caryophyllene
Responsible for the spicy flavours that can be found in certain spices or seasoning herbs, such as cloves or black pepper. It is one of the most widely used terpenes for its analgesic and anti-inflammatory action (clove is the best 'grandmother's remedy for toothache).
Myrcene
It is the terpene most commonly found in hemp, and it is also the most famous one. It is found in laurel, lemongrass and verbena: its smell is reminiscent of a very spicy resin. An important component of many essential oils, myrcene is known for its beneficial action on inflammation and pain, and also seems to have important anti-bacterial properties.
Alpha-pinene
It can be found in ginger, rosemary or sage, with an earthy scent close to cedar and pine. Known for its action of communicative exchange between plants, it is used for its action on infections, but also against inflammatory pain.
Limonene
Limonene is responsible for the smell of lemon or lime: in its isolated and pure form, it can also be found in orange odours, which are widely used to perfume certain products. It is therefore, naturally, one of the best mosquito repellents on the market: limonene is used in many of these produtcs, which are so indispensable in summer. In addition, it has a natural anti-bacterial and anti-depressant action, and it has also been studied for its benefits in the fight against cancer.
Terpineol
With its smell similar to that of lily of the valley or jasmine, terpineol is found in niaouli or rosemary, for example. Hypotensive, it is also used for its ability to act on infections and inflammation.
Borneol
It is THE terpene most used in Chinese medicine: it is found in sage, thyme or ginger. Its typical smell of camphor makes it one of the most easily recognizable terpenes. It is used for its anaesthetic, antioxidant and neuroprotective benefits.
Linalol
Linalool is present in several plants such as mint or birch, and can be recognized by its lavender scent. Very present in hemp, it has calming, even sedative effects, and has been studied for its action against epilepsy and cancer.